A few weeks ago I did a blog post about some of my fav Etsy shops, well now I wanna share just some general things that I'm completely obsessed with [right now].
>>>I don't know what it is about the goodness in a little jar called red pepper jelly, but I just can't get enough. A cracker + soft cream cheese + pepper jelly and I'm in heaven! It has been my staple dinner for the past few nights… it's kind of a situation!
>>>I'm madly in love with my daughter's creativity and sense of re-fashion… the girl is always thinking big. The other day she handed me a lone, old sock (the kind where it's mate was eaten by the dryer years ago, but we refuse to believe it so we keep the other around hoping that the pair will be reunited…it's a long shot, but we always have hope…I digress…) and she asked that I make a little snip here, and a little snip there and whaaaa-laaaa… Barbie has a new sweater dress. We've since made a sweater tunic out of one of my little man's lone socks.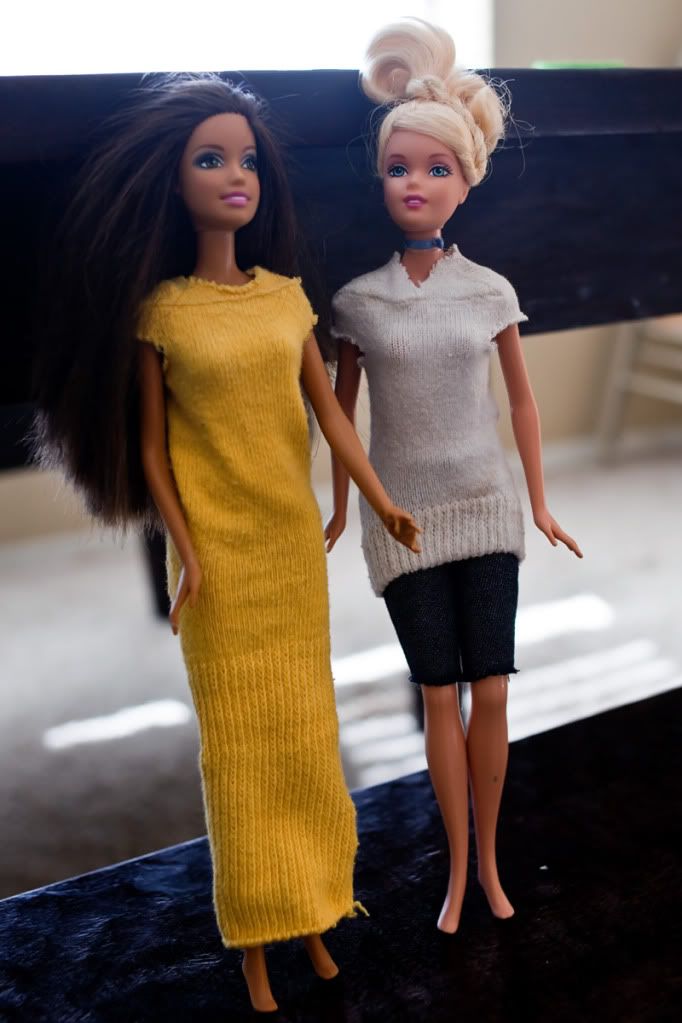 >>>Last, but certainly never least I am head over heals in love with my new lighting rig. So much fun, so many things to do and try, so few hours in a day! I'm completely smitten by these two new test pics… There's just something about that photo on the right of my lil man that hits me in the mama soft spot. To me it reminds me of an old, classic school photo from my grandfather's era… or Leave it to Beaver.
And this is what it looked like behind the camera… super simple set up. In fact you can see I was using no modifier on the light source only the 7in reflector it came with. And I will say that the big reflector off to the side is pretty cool…it can be positioned horizontal as shown or vertical if you were doing full length shots, etc… oh yeah, and the reverse side is gold for those yummy warm tones. And anyone who knows seamless paper knows that it is a pain in the 'you-know-what'. It can be done solo but oh my word it's a beast. And can I get a WOOT, WOOT for PocketWizards…love those little suckers, but hot damn they're so expensive that I'm writing them into my will.